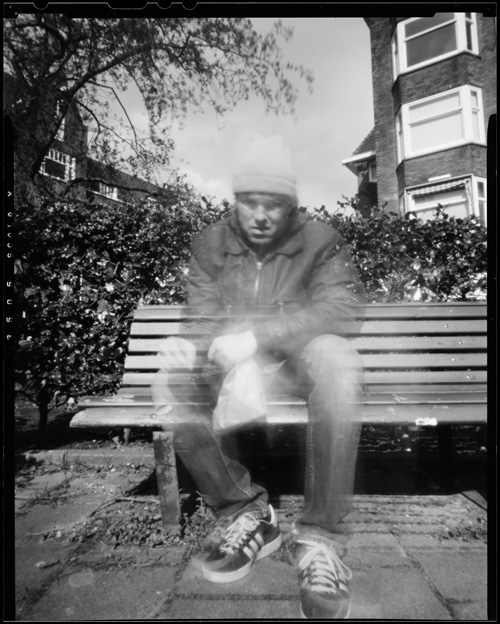 Hugo Keizer (1963) works and lives in Amsterdam, the Netherlands. In his work he searches for a harmony between a light, esthetic side and a dark, moody side. His work consists of series which start from an idea, but once started, the series shape and steer themselves. This is done in the conviction the work must grow in an organic way, the experiment and keeping an open mind for new angles is essential.
Hugo Keizer works on film (4X5" and roll), using several cameras. He develops and scans the film himself, thus keeping maximum control. Using his experience of printing film in a real darkroom as a guidance, the computer is used to post process the images.
Website: www.hkeizer.com
Exhibitions
September/December 1984 – Cafe de Balie, portraits. Collaboration with Jan Holsbergen.
March 2005 – Galerie Buuf, group exhibition.
May 2009 – Govert Flinckstraat 77, (City)Portraits, solo exhibition.
Oktober/November 2010 June 2011 – 'Studio Jacob', Homes, solo exhibition. Book presentation, Frozen Flowers or We'll be fine.
November 2012 – Joot, solo exhibition.
January/February 2013 – Exit Art, solo exhibition.
March/April 2013  – 'Gallery One', solo exhibition.
November 2013/January Joot, group exhibition.
2014 December 2013 – Art in Red Light, Beurs van Berlage, group exhibition.
June 2014 – Wanrooij galleries, Raw Beauties, group exhibition.
January 2016 – Josilda da Conceicao Gallery, group exhibition.
December 2016/February 2017 – Collection M, solo exhibition.
February 2017 – Josilda da Conceicao Gallery, group exhibition.
Feb/March 2020 – Art Singel 100, solo exhibition.
November 2020 – Centre Civic Llimona (Barcelona),'Arai 3′, solo exhibition.
Okt/Nov 2022 – Art Singel 100, solo exhibition.